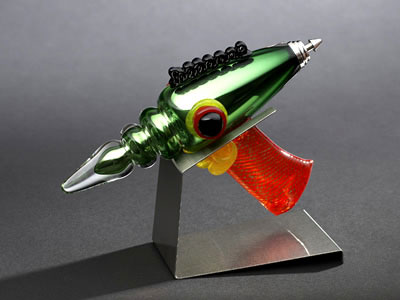 Based in Vancouver, Canada Joe Blow Glassworks produces an amazing line of hot glass art objects called Raygunz:
"These are blown and manipulated hot glass objects. A transparent colour is picked up on the pipe, then clear glass is gathered on top. The piece is then blown out and shaped to the desired form. Coloured bits are added. Once the bits are in place, the handle and trigger are applied to the piece, the Raygun is then knocked off the blowpipe into the annealer to cool over a fifteen-hour cycle."
You can see their collection here.
Found via darkroastedblend.com.