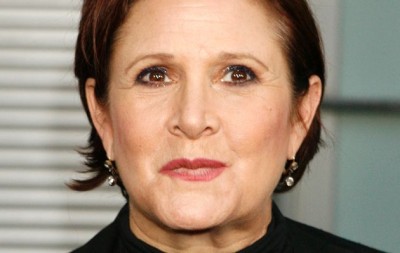 Despite Mark Hamill being a downer about rumors that he, Harrison Ford, and Carrie Fisher would return as Luke, Han, and Leia in Disney's Star Wars Episode VII, the rumors continued to circulate. They may have been in talks, but I guess at least one of them has wrapped up, as Carrie Fisher has quite definitively confirmed that she will return as Leia.

When asked by Palm Beach Illustrated if she could confirm returning to the role of Leia in 2015, she answered with one word: "Yes." Can't take that any other way!
There's more. Fisher speculated on what Leia may be like today, at her age, saying that she would be "Elderly. She's in an intergalatic old folks' home. [laughs] I just think she would be just like she was before, only slower and less inclined to be up for the big battle." So…more of a commander role? That would fit, if she's still fit for duty.
When asked if she was still wearing the "bagel bun" hairstyle, Fisher guess she would be wearing "The bagel buns and the bikini, because probably she has sundowners syndrome. At sundown, she thinks that she's 20-something. And she puts it on and gets institutionalized." Um…huh. Let's hope the writers have in mind something more dignified than that!
Source: Palm Beach Illustrated