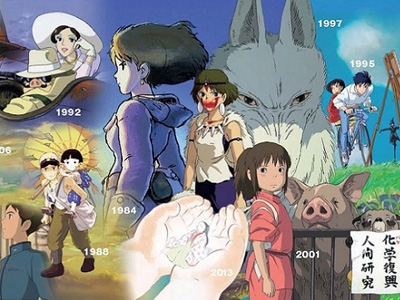 This year, Studio Ghibli is releasing two new films in Japan — Hayao Miyazaki's Kaze Tachinu (The Wind Is Rising) and Isao Takahata's Kaguya-hime no Monogatari (The Tale of Princess Kaguya). Once they're released, Studio Ghibli will have released 21 films since Nausicaa of the Valley of the Wind in 1984 (which was actually pre-Ghibli, but is generally considered to be a Ghibli film), including one TV movie. To celebrate their achievement of creating some of the best animated films ever made, Ghibli made this mural for Japanese theaters.
Look at all those classics! Castle in the Sky, Kiki's Delivery Service, Princess Mononoke, My Neighbor Totoro, and of course Miyazaki's masterpiece Spirited Away. It's a shame Tales from Earthsea is in there…but I suppose it wouldn't be complete without it.
Click the image below for a bigger version!

Source: Flixist