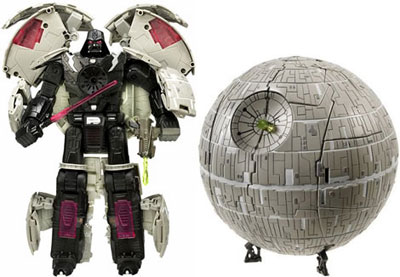 You only have $50 to get your fanboy friend a gift, but the only trouble is do you pick something with a Star Wars theme or a cool Transformers toy? Well if you want to get the best both worlds you should check out the Hasbro Star Wars Transformer Deluxe Death Star that changes into Death Star vehicle mode into a mecha Darth Vader. The funny thing is that the mecha Darth sort of reminds me of a Gundam robot too…
Side Note: I keep looking for worthy Star Trek goodies to write about but the merchandising biys at Lucasfilm seem to be in hyperdrive mode this year. Maybe that will change when the next Trek film comes out.
Found via GeekAlert.