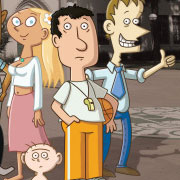 Once upon a time there were the Flintstones followed by the Jetsons, animated family sitcoms that adults could watch as well as the kids. Then a great dark age followed for many years until the Simpsons brought the genre back in 1989. Since then we've seen it all from South Park to Family Guy and frankly the concept is a bit tired at this point. But when you take that and add second rate jokes you get Sit Down, Shut Up. And just in case you think the first video clip that I found was lame, here's additional proof that this is the must miss show of the season:
Ummm yes the catch phrase! How about "Next time hire a real writer!"
Yes more characters we just don't want to get to know. One thing that people forget about comedy (animated or otherwise) is that a comical actor has to have some dimensions — part of the reason is that we're laughing at ourselves to some degree.
Another gym teacher character — how original! What's sad is that watching this I'm reminded how much better the gym teacher character is in Home Movies on Cartoon Network.
Sometimes when something is so bad it becomes funny — but in this case the comedy here is so tame that it's just dull and painful to watch. Any way there are several more clips on YouTube but life is to short to waste on that sort of thing. Frankly the real mystery that deserves some thought is how a show like this manages to even get on the air?