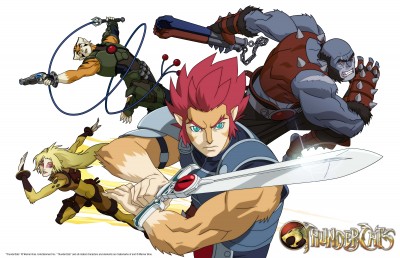 Last year, it was revealed that ThunderCats would be making its return to television. It was exciting news, but until recently nobody had any idea as to what we could expect. Warner Brothers had mentioned the involvement of Studio 4°C, the animation studio responsible for numerous projects such as Detroit Metal City, and Spriggan. More recently, the studio was involved with several Warner Brothers projects including The Animatrix and Batman: Gotham Knight.  
Well, here's an official image depicting some of their work on the upcoming ThunderCats remake. To be honest, I'm not quite sure what to think of the new character designs. Lion-o and the gang appear to be intact, but I'm a little worried about Cheetara over there. She's looking a little "Saturday morning." Then again, maybe that's a good thing.
 I just hope Snarf is no where to be found. He really was their Jar-Jar.
Tim is a pro-blogger and freelance writer out of San Diego, California. In addition to Fanboy.com, he contributes to the ModernMethod Network of sites as the Features and Reviews Editor for the Japanese culture and entertainment blog, Japanator. He's also an Assocaite Editor for their popular gaming blog, Destructoid, and the collectible toy culture blog, Tomopop. For more information, follow him on twitter, or check out TimSheehy.com.