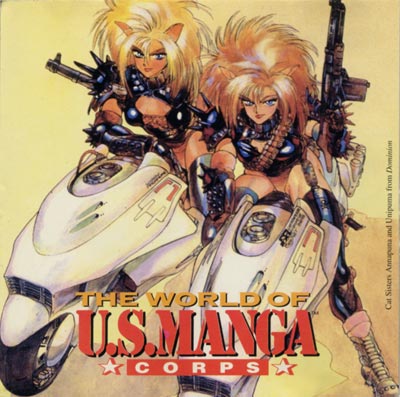 In 1991 for some odd reason Brian Cirulnick and myself were able to talk John O'Donnell of Central Park Media into making the first Anime themed CD-ROM. The CD-ROM featured 1,000 targa images taken from various Anime TV shows and movies (everything from from Project A-ko to Urusei Yatsura) and 100 digital video clips which were produced using the then new technology QuickTime from Apple Computer. In fact the CD-ROM was the 2nd commercial title to feature QuickTime, the first I believe was a porno title. The other cool thing about the project was that it featured a multimedia presentation which contained a catalog showing a thumbnail sketch of each image. After it's release the CD-ROM started to sell well and was even picked up by Educorp (one of the early CD-ROM catalogs). However sadly the title was spotted in Japan by one of the copyright holders who mistook it for a video game and thus ending the shelf life of the project.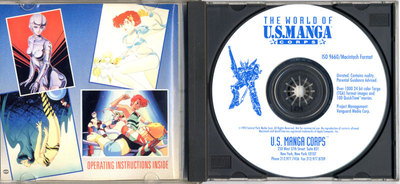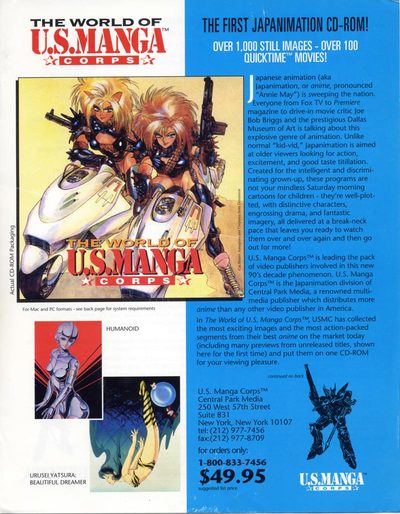 By the way, as a special bonus here's the credits listing from the CD-ROM for old times sake:
Central Park Media – Producers
John O'Donnell – Executive Producer
Jeff Thompson – Production Coordinator
Cliff Rosen – Special Liaison
Vanguard Media – Project Management and Human Interface Design
Michael Pinto – Project Manager, Screen Design, Art Direction
Brian Cirulnick – Technical Manager, Video Toaster expert
Dov Hechtman – Video Toaster and Photoshop
Sheldon Mills – Photoshop, Screen Shots
Nick Kent – Photoshop (retouching)
Dave Copcutt – Video Toaster and Photoshop
Safire Software – QuickTime and CD-ROM
Mark Safire
Premiere Graphics International – Macromind Lingo Programming
D.J. Hacker
Integrated Media – Windows version of Catalog Program
Alan Hochman
DG•IT – Sound Design and FX
Nick Kent
Adobe Systems Inc. – Photoshop Try-Out
Steven I. Guttman – Product Marketing Manager
Raxsoft – GDS (PC Targa viewer program)
Paul Schmidt
Vision Software – MovieTime for showing QuickTime
Special Thanks
Mark Altschul – Legal Advice
William Lee – Japanimation Help
Ralph Quimby – Japanimation Help
Robert Fenelon – Japanimation Help
Gerald Moriarty – Japanimation Help
Richard Moriarty – Japanimation Help
Bill Morrison – Windows Advice
Michael Ling – PC Advice
Bob Montgomery – PC Advice
Pam Sansburg – CD-ROM Advice
Carmen Yancey – CD-ROM Advice
Jane Brady – CD-ROM Advice
Craig Owen – Beta-tester on the spot….
* * Not only was it kind of Adobe and Raxsoft to let us use their
software – but their software was really good! Forgive the plugs but
Photoshop is the best image program I have ever worked with – and
GDS is a great PC utility. I urge every serious user to purchase both
– I was VERY happy with each. Also Vision Software (who makes
MovieTime) makes CameraMan – a real neat program that allows you
to make QuickTime movies of your desktop on the Mac – a little gem
of a program that every QuickTime fan should have.
…ah yes the good old days!