Good news if you like Tim Burton films or musicals based on the penny dreadful exploits of a Victorian barber who kills his customers (sounds like a winning combo to me):

DreamWorks Greenlights Tim Burton Sweeney Todd Film Starring Johnny Depp
"DreamWorks Studios confirmed plans for the upcoming Tim Burton film version of Stephen Sondheim's musical Sweeney Todd starring his constant collaborator Johnny Depp in the title role. John Logan ("The Aviator," "Gladiator") penned the screenplay adaptation planned to begin work early in 2007 for a "late 2007 release," according to the announcement."
…I can't wait to see whatthey do with Depp's hair for the role, even if the film is bad you know it's going to be fun!
Below: Artwork from the 70s Broadway musical.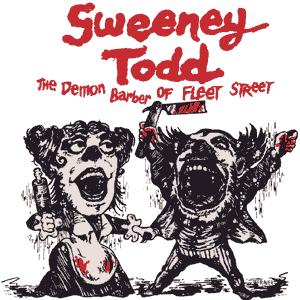 Below: Video clip from the DVD of the original touring Cast of Sweeney Todd, including Angela Lansbury and George Hearn.