Posted by Michael Pinto on Dec 18, 2006 in
Comic Books
|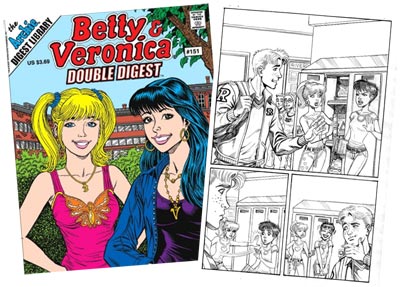 Archie hasn't quite gone manga yet, but a redesign of the classic comic book is in the works and what I see doesn't look that good (see the illustration above). Here's the source for the story:
Archie & Riverdale Get A New Look
"With more than 60 years of a certain…shall we say, style behind them, Archie, Betty, Veronica, and the whole Riverdale gang will be getting a new look in 2007, courtesy of artist Steven Butler. Rather than moving to a manga style, which has worked on Sabrina by Tania del Rio, this change will move the art towards a more contemporary comic book style, more realistic, and less cartoony. The move, an Archie Comics representative told Newsarama, is a continuing experiment and exploration with the characters, showcasing not only their timlessness, but theur adaptability as well."
This new stye looks more generic than anything, it's sort of manga light. I think the problem is that they've added too much detail to the character designs, and have lost any link to the fun spirit of the comic (the new characters look a bit too serious). Of course after half a century they should update the book, but I think they should have given more careful thought about how to update the look.