Posted by Michael Pinto on Dec 12, 2006 in
Comic Books
|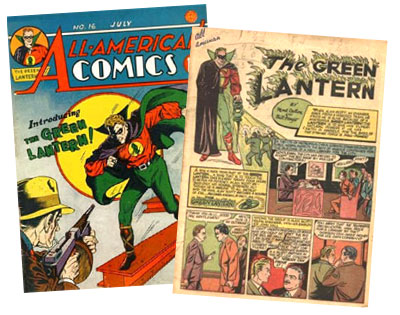 Above: The first comic book to feature the Green Lantern, from July 1940.
Green Lantern Creator Nodell Dies at 91
"Martin Nodell, the creator of Green Lantern, the comic book superhero who uses his magical ring to help him fight crime, has died. He was 91. Nodell was looking for a new idea for a comic book in 1940 when he was waiting for a New York subway and saw a train operator waving a lantern displaying a green light, said Maggie Thompson, senior editor of Comics Buyer's Guide.
Nodell imagined a young engineer, Alan Scott, a train crash survivor who discovers in the debris an ancient lantern forged from a green meteor. Scott constructs a ring from the lamp that gives him super powers, and becomes a crime fighter.He brought his drawings and story lines to All-American Publications, which later became a part of National Periodical Publications, the company that was to become DC Comics, Thompson said.
The first Green Lantern appearance came in July 1940, an eight-page story in a comic book also featuring other characters. The character then got his own series, and Nodell drew it until 1947 under the name Mart Dellon. After its cancellation in 1949, the series was reborn in 1959 with a revised story line, and it has been revived several times. Meanwhile, Nodell left the comics field for an advertising career. In the 1960s, he was on a design team that helped develop the Pillsbury Doughboy."