Posted by Michael Pinto on Dec 25, 2006 in
Comic Books
|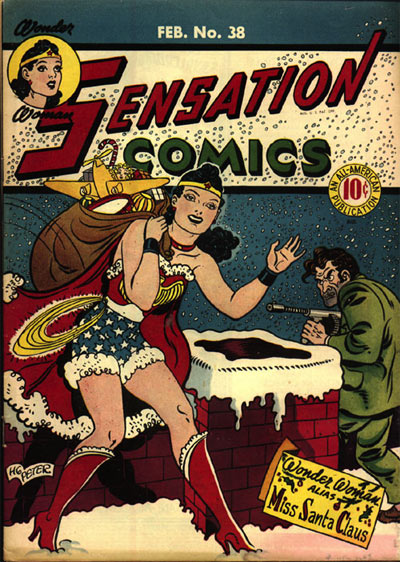 Above: A classic 1948 Wonder Woman themed Christmas cover illustrated by Harry G. Peter.
Here's a sensational description of the story synopsis:
Racketeers Kidnap Miss Santa Claus
"Diana Prince meets a poor boy named Pete Allen who doesn't believe in Santa Claus. Wonder Woman decides to visit the boy's family and deliver presents. She discovers that the boy lives in a slum. His mother is scared that her sister's husband, Joe Bamko, will hurt the children.
Wonder Woman meets Joe who kidnaps the kids to use as hostages against her. Wonder Woman is forced to surrender to the gangster. Under the influence of her own magic lasso, Wonder Woman is then forced to break into the treasury to steal gold for the gangster. With the help of Steve and Etta, Wonder Woman frees herself and stops Joe's gang from escaping. She then finishes delivering presents to Pete and his sister."
However historians can only guess why a Christmas themed comic book was released in February…