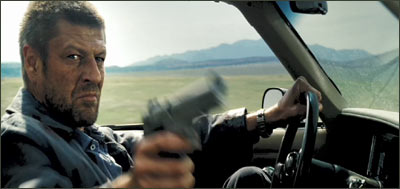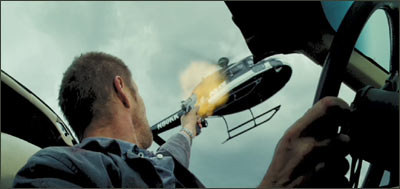 From Michael Bay's Platinum Dunes studios (Texas Chainsaw Massacre, The Amityville Horror) comes the next horror genre remake in The Hitcher. Based on the 1986 movie of the same name from a script by Eric Red the Hitcher hits on all cylinders for action suspense and downright creepiness factor.
Sean Bean (Lord of the Rings, National Treasure) is the mysterious hitcher John Ryder in a role previously played by Rutger Hauer. On a dark rainy night a young couple almost runs over a hitchhiker and then leaves him at the side of the road. As the camera closes in on the face of the hitcher it is at that point that you can tell their fate is sealed.

Sophia Bush (Van Wilder, One Tree Hill) and newcomer Zachary Knighton play Grace and Jim a young couple on their way to Spring Break when they have the unfortunate run in with John Ryder. From that point on it becomes a cat and mouse game as Ryder stalks them through the New Mexico desert and even frames them for the murder of a nice Christian family.
As the young couple runs for their lives and the body count rises the questions continue to mount. Who is John Ryder? What does he want with these two college kids? Why is he killing so many people?
Enter Lieutenant Esteridge of the New Mexico State Police played by Neal McDonough (Walking Tall, Timeline). He sees through the frame up almost instantly but by this point there are dead cops and the kids are on the run. He's the grounding force of the movie remaining calm and collected as everyone else except the killer have gone into overdrive with adrenaline.
All the characters met the chase is on and the questions remain. Who is John Ryder and why is he so determined to chase down Grace and Jim and kill anyone who gets in his way? You'll have to watch and find out but I will tell you this much. This movie is non stop in it's action. It starts five minutes in after a brief introduction of Grace and Jim and it never stops until the very end.
Now for the complaints. I've heard over and over how this movie doesn't stack up to the original. How Rutger Hauer plays the ultimate badass and C Thomas Howell is amazing in the male lead. I have never watched the original Hitcher so I can't make the comparisons. If you have seen the original all I ask is that you keep an open mind when you go into the theater and I guarantee you will not be disappointed.
So until next time this is Spirk stating…..The gum under your seat was not mine…Honest!
Richard Carroll is an avid movie viewer and all around fanboy. You can probably find him at his computer playing Guild Wars when not watching,writing, reading or roleplaying something (Oh and then there's the real world and work). Check out some of his written works at www.ficofthedead.com. A website in need of a webmaster to ensure it gets updated. (Any takers? Anyone? *grins*)