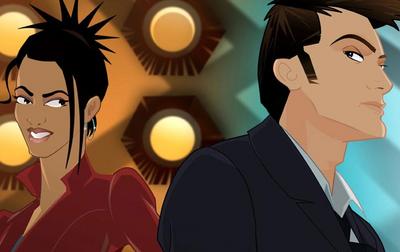 It looks like the latest version of Dr. Who is being turned into an animated television series:
Doctor Who and Martha are about to step into a new dimension – a cartoon one. David Tennant and Freema Agyeman will star in The Infinite Quest, a 13-part animated adventure that will run weekly in the second series of Totally Doctor Who.
"The Doctor And Martha follow a trail of clues across wild and wonderful alien worlds, to find the location of the legendary lost spaceship, the Infinite," revealed Russell T Davies.
The Infinite Quest is written by Alan Barnes and directed by Gary Russell. The spectacular animation will be crafted by Firestep, the creative team behind previous Doctor Who animated adventures for the BBC. Thanks to developments in animation and computer technology, expect some amazing advances on previous animations."