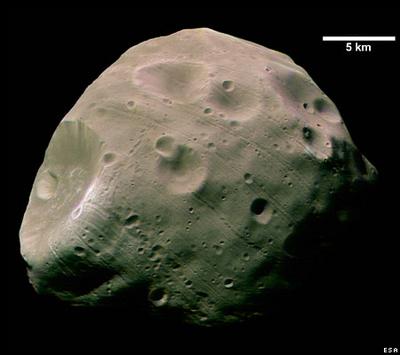 This is an amazing article on a planned mission to Phobos (for the year 2016):
Martian moon 'could be key test'
"Mars' moon Phobos could be the target for a technology trial that would seek to return rock samples to Earth. A UK team is developing a concept mission that aims to land a spacecraft on the potato-shaped object and grab material off its surface.
These small rock fragments would then be despatched to Earth in a capsule. "It is being seen as a technological demonstrator for an eventual Mars sample return," said Dr Andrew Ball from the Open University. Those aspects of the mission that worked well could be incorporated into a full-scale assault on the Red Planet."
…and interesting fact I read in the article is that Phobos will one day (well millions of years from now) crash into Mars or be torn into little bits.