Posted by Michael Pinto on Mar 8, 2007 in
Comic Books
|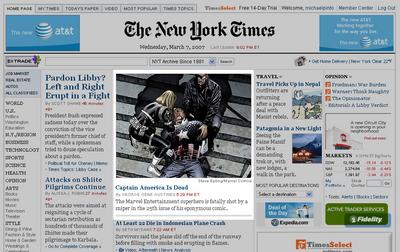 I was pretty amazed to see that Captain America was featured on the front page of the New York Times (click on the thumbnail above to see the screenshot at full size). Yes I know it's not the print edition of the Times, but it's still pretty cool from a fanboy point of view! Afterall this is the newspaper that's too snotty to carry daily cartoon strips (except for the editorial ones on Sunday). But sadly for Captian America, he's been shot dead:
Captain America Is Dead; National Hero Since 1941
"Captain America, a Marvel Entertainment superhero, is fatally shot by a sniper in the 25th issue of his eponymous comic, which arrived in stores yesterday. The assassination ends the sentinel of liberty's fight for right, which began in 1941.
The last episode in Captain America's life comes after the events of "Civil War," a seven-issue mini-series that has affected nearly the entire line of Marvel's library of titles. In "Civil War," the government began requiring superheroes to register their services, and it outlawed vigilantism after supervillains and superheroes fought during a reality show, accidentally killing hundreds of civilians. The public likened the heroes to weapons of mass destruction that must be controlled.
The registration act polarized the superhero community. Captain America (whose true identity was Steve Rogers) considered the legislation an erosion of civil liberties; Iron Man, on the other side, believed that training heroes as the military, firefighters or the police are trained would only benefit society. When the factions came to blows and caused more destruction, Captain America chose to fight his battle in court."