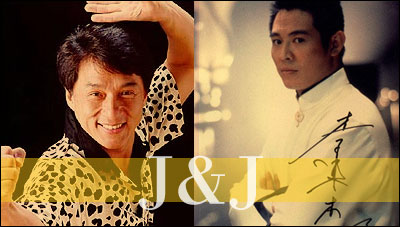 This looks like it might be a fun film:
Jackie vs Jet in Kings of Kung Fu
"The much anticipated movie "J & J Project" or "双J计划" starring kung fu star Jackie Chan (成龙) and Jet Li (李连杰) has changed the title into "Kings of Kung Fu" or "功夫之王". The movie will start shooting in late April or early May.
The movie tells a story about an American boy Jason who travels back into ancient China with special mission. Jason meets with action master Lu Yan (鲁彦) played by Jackie Chan and Jin Yanzi (金燕子), plus a silent monk played by Jet Li. They overcome many difficulties and defeat the evil power. In the end, they finish the redemption of saving the Monkey King. It is the first time that the two action superstars cross swords and is worthy of attention.
Renowned American director Rob Minkoff of "Lion King" will helm the movie and the screenplay is written by John Fusco. The Chinese kung fu, legends and myths from Western angel must be fresh and interesting to Chinese audience. It is still not dicided yet who will play the two key female roles in the movie – Jin Yanzi and Bai Fa Mo Nv (白发魔女 or White Devil)."