Posted by Michael Pinto on Mar 21, 2007 in
Comic Books
|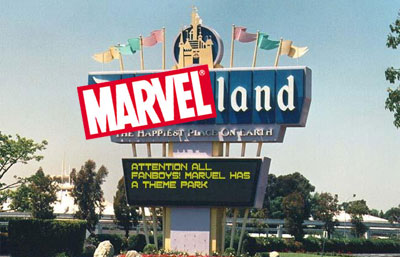 The good news is that there's going to be a Marvel Theme Park! But alas us fanboys are going to need a Passport as it's going to be in Dubai and won't open until 2011:
Marvel Theme Park Coming to Dubai
"United Arab Emirate-based Al Ahli Group and Marvel Entertainment, Inc. announced today a partnership that will bring Marvel's full library of Super Heroes — including Spider-Man, Iron Man, The X-Men, Incredible Hulk, The Fantastic Four and Silver Surfer — to Dubai for a major new theme park destination being developed by AAG. The development is in line with the vision set by HH Shk. Mohammed Bin Rashid Al Maktoum, Vice President and Prime Minister of the UAE and Ruler of Dubai, through his innovative entertainment and hospitality driven expansion projects for Dubai and the UAE.
The Al Ahli Group, under the leadership of Chairman Nasser Ali Khammas and driven by the idea and dedication of CEO Mohamed Khammas, is poised to bring the region's first and only global theme park destination directly to the heart of the Emirates. AAG and Marvel are also in initial stages of discussions about additional projects throughout the greater Pan Arabia region.
AAG has been in discussions for more than two years with the owners of the world's top intellectual properties in the entertainment arena and is extremely proud of its new long-term partnership with the world renowned Marvel brand. The Project will open in 2011 with a direct investment of over $1 billion USD. The creative team, which consists of some of the most spectacular creative minds from around the globe, will be based in Hollywood, Orlando and Dubai throughout the four year development process. New technology and unparalleled visitor experiences will be the hallmark of the theme park, creating a new standard for theme parks around the world."