Posted by Michael Pinto on Mar 9, 2007 in
Comic Books
|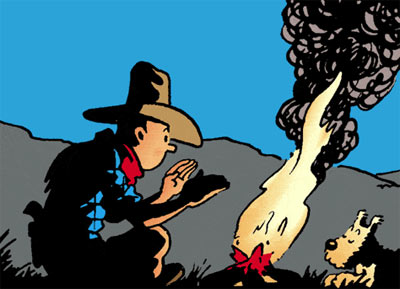 No word on if Spielberg would make Tintin into animation or live action, but it's a sure thing that he'd do a good job with any film that features a kid and cute doggie:
Spielberg to tackle adventures of Tintin
"Tintin, the heroic young journalist and adventurer created by Belgian cartoonist Hergé, is set to take to the silver screen again — this time with the help of Steven Spielberg.
Spielberg and his company DreamWorks have committed to produce at least one Tintin movie and are gearing up for pre-production on the film, Nick Rodwell, head of Hergé's Moulinsart Studios, which holds the rights to Tintin, said Thursday.
"If movie No. 1 works, we will continue," Rodwell said, adding that it is still unclear which of Tintin's adventures — depicted in 24 books — will be filmed. A completed movie could show up in theatres by 2009 or 2010, Rodwell told a press conference.
Since his debut in 1929, Tintin has enthralled comic readers with his ongoing adventures. In 2004, fans around the world celebrated his 75th birthday."