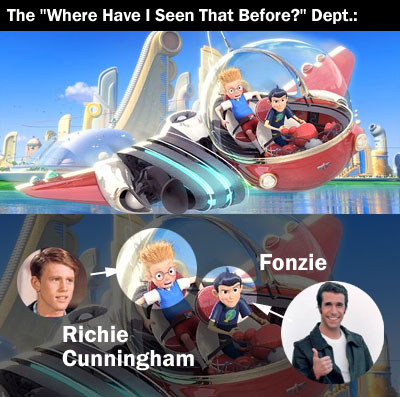 It's funny I can just look at the character designs (they're so vanilla) from the Robinsons and get a bad taste about this film. But I think Disney will turn things around yet, just not with this picture:
A Nerdy Orphan Plows Ahead With a Lot of Familiar Novelties
"Meet the Robinsons is surely one of the worst theatrically released animated features issued under the Disney label in quite some time.
Lewis, the bespectacled orphan who is this film's hero, is a budding inventor whose obsessive nerdiness turns off potential adoptive parents. One of his less successful creations is a peanut-butter-and-jelly-sandwich machine that sprays brown and purple goo in every direction except onto the waiting bread.
And so it is with "Meet the Robinsons." With increasing desperation, the filmmakers (Stephen Anderson directed and shares screenwriting credit with a half-dozen other writers) and their Disney and Pixar supervisors hurl fun at the screen, digging deep into their bag of used novelties."