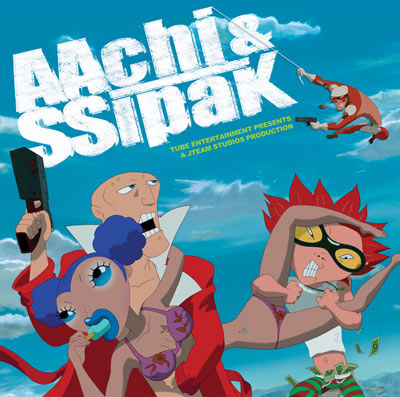 I just discovered this interesting animated film via Drawn, what's interesting is that it's not from Japan but from Korea and it came out last year (so it slipped under my radar some how). It looks like it's got some nice quality character design and animation directed by Jo Beom-jin. By doing a bit of research I found that you can buy it on DVD at yesasia.com. Here's the trailer from the film:
And here's a quick plot summary from the New York Times:
"A futuristic city that is literally fueled by excrement provides the setting for this animated comedy concerning two dangerous delinquents who become inexorably tied to a deadly power struggle within the methane-laden metropolis. Soon after it's discovered just how much power can be generated by fecal waste, the government installs special sensors on citizen's anuses as a means of monitoring the production of the valuable natural resource.
Meanwhile, as the public becomes addicted to hallucinogenic and highly-addictive popsicles designed to keep them in line and stimulate even greater bowel movements, street thugs Aachi and Ssipak cross paths with a tough-talking porno star and incur the wrath of a dreaded group of outcasts known as The Diaper Gang."
…and here's the official website for the film (in Korean of course):