Posted by Michael Pinto on Apr 9, 2007 in
Comic Books
|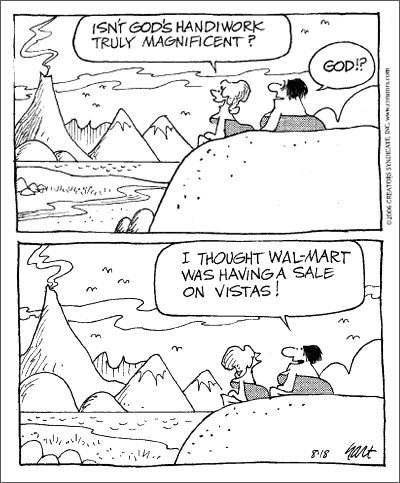 The comic strip B.C. has been running in newspapers since 1958, and the man behind that was Johnny Heart, who has sadly just passed away. I grew up reading B.C. in the Sunday funnies and was always touched by it's gentle and philosophical humor.
Heart became a born again Christian in 1977, but while his strips sometimes featured religious themes I would never say that they were heavy handed. In fact looking back at many of those strips I've always thought that they were poking fun at religion, or perhaps our human take on the subject.
Heart got his start in Stars and Stripes while he was serving in Korea, and then went on to do work for magazines like the Saturday Evening Post when he retured from the war in 1953. It's also important to note that he co-created The Wizard of Id with Brant Parker in 1964. And being a true cartoonist's cartoonist he died at his storyboard this past weekend.

Here's an obituary from Variety:
Johnny Hart, 76, cartoonist
Comic strip 'B.C.' was in over 1,300 papers
"Cartoonist Johnny Hart, whose award-winning "B.C." comic strip appeared in more than 1,300 newspapers worldwide, died at his home on Saturday. He was 76. "He had a stroke," Hart's wife, Bobby, said on Sunday. "He died at his storyboard."
"B.C.," populated by prehistoric cavemen and dinosaurs, was launched in 1958 and eventually appeared in more than 1,300 newspapers with an audience of 100 million, according to Creators Syndicate, Inc., which distributes it.
After he graduated from Union-Endicott High School, Hart met Brant Parker, a young cartoonist who became a prime influence and co-creator with Hart of the "Wizard of Id" comic strip. Hart enlisted in the Air Force and began producing cartoons for Pacific Stars and Stripes. He sold his first freelance cartoon to the Saturday Evening Post after his discharge from the military in 1954.
"He was generally regarded as one of the best cartoonists we've ever had," Lazarus said from his California home. "He was totally original. 'B.C' broke ground and led the way for a number of imitators, none of which ever came close"."