Posted by Michael Pinto on Apr 18, 2007 in
Comic Books
|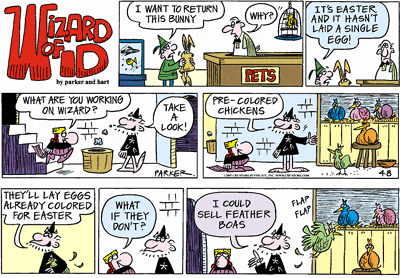 I'm sad to say that Wizard of Id co-creator Brant Parker has passed away. As a kid growing up in the 70s I always loved his work because it was very approachable, and yet the humor had a nice sophistication to it. Sadly Parker joins his Id co-creator Johnny Hart who passed away recently. Although I think both gentlemen would be pleased to know that their kids have taken up the torch for a shabby beloved medieval kingdom called Id:
'Id' cartoon wizard Brant Parker dies
"Brant Parker, the co-creator of the comic "The Wizard of Id," who portrayed medieval kingdom for more than 30 years, died in Lynchburg, Va. He was 86. Parker, who died Sunday of complications from Alzheimer's disease and a previous stroke, passed away eight days after longtime "Wizard" collaborator Johnny Hart died of a stroke, the Los Angeles Times said Tuesday. "Id" and its quirky inhabitants appears in more than 1,000 newspapers worldwide since its launch in 1964.
Hart was drawing the Stone Age strip "B.C." when he sought out Parker, whom he'd known for several years, to help coax humor from the Middle Ages. The collaboration lasted until 1997, when Parker turned over "Wizard" drawing duties to his son, Jeff.
Creators Syndicate, the strip's distributor, said "The Wizard of Id" would continue as a collaboration between the Parker and Hart families. Parker said a two-year stint at Walt Disney Studios in the late 1940s was his main cartoon-drawing classroom. He worked on several Donald Duck shorts and the 30-minute "Mickey and the Beanstalk"."