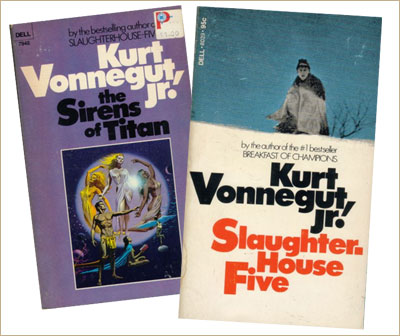 I owned that paperback copy of "Sirens of Titan" above, what was great about Kurt Vonnegut was that he played a role in making science fiction respectable:
Kurt Vonnegut Is Dead at 84; Caught Imagination of His Age
"Kurt Vonnegut, whose dark comic talent and urgent moral vision in novels like "Slaughterhouse-Five," "Cat's Cradle" and "God Bless You, Mr. Rosewater" caught the temper of his times and the imagination of a generation, died last night in Manhattan. He was 84 and had homes in Manhattan and in Sagaponack on Long Island.
Mr. Vonnegut wrote plays, essays and short fiction. But it was his novels that became classics of the American counterculture, making him a literary idol, particularly to students in the 1960s and '70s. Dog-eared paperback copies of his books could be found in the back pockets of blue jeans and in dorm rooms on campuses throughout the United States.
His novels — 14 in all — were alternate universes, filled with topsy-turvy images and populated by races of his own creation, like the Tralfamadorians and the Mercurian Harmoniums. He invented phenomena like chrono-synclastic infundibula (places in the universe where all truths fit neatly together) as well as religions, like the Church of God the Utterly Indifferent and Bokononism (based on the books of a black British Episcopalian from Tobago "filled with bittersweet lies," a narrator says)."