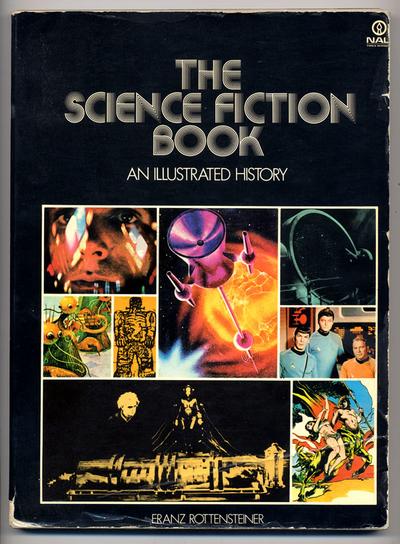 Shown above is the cover (click to see at full size) of 'The Science Fiction Book: An Illustrated History' by Franz Rottensteiner, featuring an illustrated layout by Thames and Hudson. In the mid-70s I was very much a Star Trek fanboy (and later a Space: 1999 fanboy), so my parents purchased this little treasure for me.
The book was published in 1975 and gives a detailed look at every theme to be found in science fiction from that era, however it doesn't have the Star Wars photos since the film hadn't come out yet.
Now that I live in the 21st Century the book cover looks rather charming and dated with it's disco typography. And the irony is that the book explores what it views as the charming retro look of 1950s pulp magazines and the like. I find it somewhat ironic that in the year 2007 I loving look back at my dog eared version of a book about the future I live in. Now that I live in the 21st Century my only regret that I have is the fact that manned space exploration hasn't advanced much since the 70s.
A side note on Franz Rottensteiner: I did a quick google and Mr. Rottensteiner is still very much alive and kicking in Austria. He did another book on Fantasy in 1978 and is the publisher of a liteary magazine.