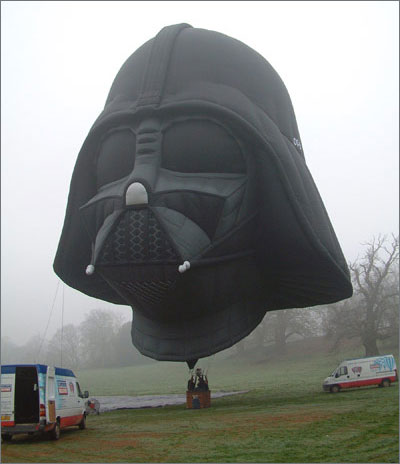 Up up away in my Darth Vader balloon:
"The idea of creating a balloon symbolizing the SW saga has been on my mind for a long time. But I was too shy to ask George Lucas (Lucasfilm) permission to do it.
Then I met with FanWars in 2005. They wanted me to make a Death Star – shaped PVC helium balloon. While discussing with FanWars leader Nicolas Lelong aka TK-9999, I spoke of my idea of a Darth Vader – shaped hot air balloon. For me, it was more of a joke and a fantasy, but Nicolas took it seriously and found the idea wonderful. He took contact with LucasFilm in order to try to get their agreement.
As soon as we got Lucasfilm's approval, we made contact with the world largest manufacturer of hot-air balloons, specialized in special shapes and based in the United Kingdom. A Darth Vader helmet replica was sent to their engineers to help them recreate every detail. A vectorial file representing the Vader helmet in 3D was also sent to the engineers."