Posted by Michael Pinto on Apr 8, 2007 in
Comic Books
|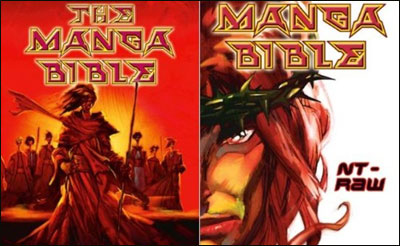 Christian themed Bible video games have been around for a while, but now it looks like the good book is about to get a manga treatment:
The Manga Bible! Raw! Extreme!
"Even as British librarians realize that the average child is more interested in Japanese comics featuring androgynous teenage boys ponderously making out with one another than the doily and crumpet adventures of Jane Austen's Emma, British Publishers Hodder and Stoughton are looking to manga to revive flagging Bible sales. The result? The Manga Bible!
Only two issues have been released so far, but Hodder and Stoughton aren't playing around. This is the Bible, rawer and more extreme than we've ever seen it before! To emphasize the rawness and extremity of Jesus' ass-kicking adventures through Ancient Jerusalem, the first two volumes of The Manga Bible have the subtitles NT Extreme! and NT Raw!"