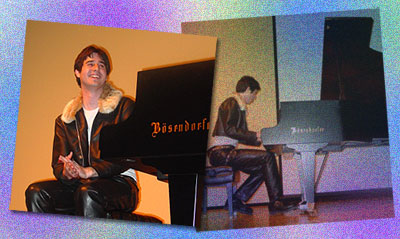 Concert Pianist (and sometimes fanboy) Michael Gluck specializes in the performance of music from anime and videogames soundtracks. Since 2003 he's been on the road giving performances at various anime conventions raising tens of thousands of dollars for organizations like The National Multiple Sclerosis Society and Race for the Cure.
This month, Gluck is launching a website for his game/anime music CD called GAME, which is currently available for pre-order on the site. The videogame publisher Electronic Arts is partnered with me in this effort, and together they'll donate an amount equal to 20% of all profits from GAME to the National Multiple Sclerosis Society. So for a worthy cause and some good listening go to:
Below: Michael Gluck giving a performance.