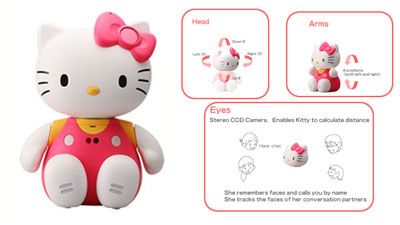 Danger Will Robinson! This Hello Kitty Robot looks like it might chant "Cute! Crush! Destroy!" It's also going to cost Kitty fanboys and fangurls a pretty penny too, each robot is $6,299.99 (but they are available for presale right away):
"Hello Kitty had release this fabulous Hello Kitty Robo. This robot can communicate with your using the Hello Kitty's voice. It can chat with you in 3 different situations: 1 As a close friend; 2 With the family; 3 Guessing game. This is a perfect robot for whoever does not have a lot time to stay with child. Hello Kitty Robo can help you to stay with your child to keep them from being lonely."
Found via GeekAlerts.