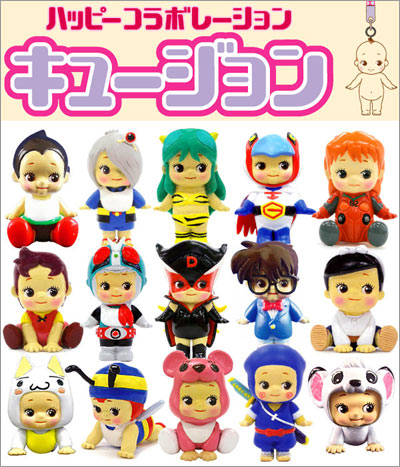 Shown above is the Kewsion Kewpie line of anime hero cell phone strap figurines. The series features characters from well known anime shows from Astro Boy to Gatchaman (Battle of the Planets here in the US). You can order the series from Strapya World:
Kewpie as Your Anime Hero, Kewsion Phone Straps
So for those who are asking, just what exactly is a Kewpie? Kewpie dolls and figurines are based on illustrations by Rose O'Neill that appeared in Ladies' Home Journal in 1909. These illustrations, which incorporated words and pictures with the recurring Kewpie characters, are considered to be early versions of the comic strip medium. In Japan Kewpie is the name of a Japanese food manufacturer, famous for its popular brand of Japanese mayonnaise which features a Kewpie doll logo.