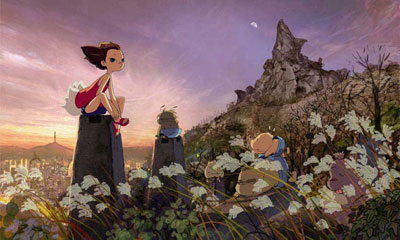 At long last Hollywood is starting to discover the animation industry in Korea. Shown above is a still from the film Yobi the Five-Tailed Fox which is featured in this recent Variety article:
Korean cartoons draw audiences
"Throughout the 1980s and 1990s, the country was a prime destination for outsourced animated work, with companies such as Akom Prods. (which produced much of the animated work behind "The Simpsons" TV series and recent film) leading the way. Nonetheless, few locally conceived and financed projects caught on with auds, or made much of a mark overseas. But newfound ambition and a rising generation of talent are raising hopes for a local renaissance.

This year also has seen some encouraging signs for locally conceived and produced feature animation, which has a long history of box office disappointment. Sunwoo Entertainment's "Yobi the Five-Tailed Fox," from Korea's best-known animator Lee Sung-gang, topped expectations by earning $3.3 million on its release in January. A restored version of 1976 animated classic "Robot Taekwon V" performed even better with $4.8 million, while "Mug Travel," a feature-length version of a popular kids series, took a respectable $900,000 on its 66-screen release."
Here's a trailer for Yobi which looks great (I like the lead character design and the use of color):