Posted by Michael Pinto on Sep 18, 2007 in
Comic Books
|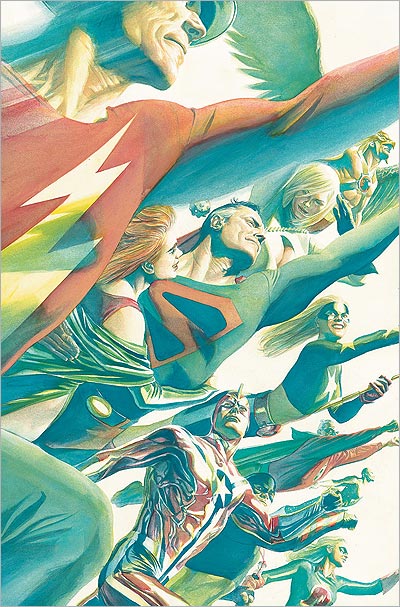 I was going through the current offerings by DC Comics, and it was one lame cover after another! Pretty much everything had that generic look to it until I stumbled on the above cover art for "Justice Society of America #11" by the talented illustrator Alex Ross. I admit that I've seen his work before, but i didn't put a name with a face and style until I saw a promotional video that was done when Ross did some amazing illustrations for the classic anime series Gatchaman.
Ross blew me away because I had grown up on Star Blazers (Space Cruiser Yamato) and although I know that Japanese version of Battle of the Planets (Gatchaman) was cool I just couldn't get into the very dated 70s look of the show and the lack of cool spacecraft that Yamato was jammed with. But when I discovered what Ross did with the Gatchaman characters I was blown away:
What I love about the way Ross draws a character is that you feel like the character is a real person. For example if you get to see a close up of the Justice Society cover you'll notice that Superman has just a bit of gray in his hair, which is a very nice touch. His sense of color is A+ too. His work is always worth keeping an eye for as there are always so many levels of detail to explore. Justice Society #11 should be in comic book shops in December, so check it out.