Posted by Michael Pinto on Sep 14, 2007 in
Comic Books
|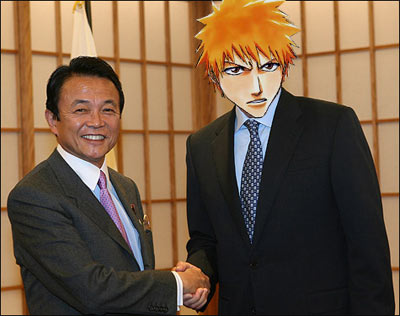 Taro Aso is a cool guy, earlier this year, he oversaw the creation of the International Manga Award to honour non-Japanese cartoonists:
Manga shares gain on leader hopes
"Japanese comic book shops have been the surprise beneficiaries of Prime Minister Shinzo Abe's shock exit. Shares in retailers selling the "manga" cartoon strips surged on belief that manga-fan Taro Aso is the leading candidate to replace Mr Abe. Mr Aso, secretary-general of the ruling Liberal Democratic Party, is a big promoter of manga cartoons abroad.
While the main Tokyo market fell after Mr Abe's resignation, manga-linked stocks like publisher Broccoli rose. The Nikkei 225 index of the largest Japanese shares fell 0.5% as political uncertainty led investors to drop out of the market until the situation became clearer. But investors pounced on manga publishers and bookshops selling the fantastical cartoon strips."