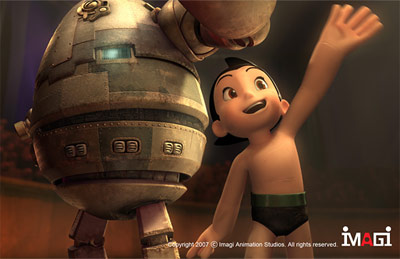 Shown above is the first still from the new CGI AstroBoy which is slated to come out in 2008. I don't want to be too judgemental at this point as it's hard to tell from a still how well the animation will or won't work:
Jensen has 'Astro Boy' flight plan
"For Danish-born animator Jakob Jensen, to animate Japan's classic manga "Astro Boy" at Hong Kong's Imagi Animation Studio seems like a difficult challenge, despite his background at DreamWorks. After all, Astro Boy is virtually a national treasure of Japan, but far less well known in the rest of the world. But Jensen has confidence that he can make "Astro Boy" fly.
" 'I want to apply my DreamWorks experience and implement philosophies I learned at that company into the work flow and the pipeline of the studio in Hong Kong to make Astro Boy as empathic in the U.S. as he is in Japan," said Jensen, 32, the animation acting director for "Astro Boy" at Imagi."