Before the web there were a few folks on the early internet and dial-up bulletin board services (BBSs) who pioneered spreading the word on anime, and quite a few of those folks owe their introduction to Steve Pearl who just passed away. Steve was the author of the FAQ (frequently asked questions) for the usenet group rec.arts.anime.misc. For those of you who don't remember usenet it contained tons of email lists. The better ones would maintain a FAQ, in a way these sometimes large documents were Wikipedia before Wikipedia. And over the years Steve's FAQ became the definitive pocket guide to anime during the 90s when quite a few folks were become anime fanboys and fangurls. My heart goes out to his family and friends:
'American Otaking' Steve Pearl Passes Away

"Steve Pearl, the moderator of the online rec.arts.anime.misc newsgroup from the late 1980s to the mid-1990s, has passed away over the weekend. He was also as the author of the rec.arts.anime.misc list of frequently asked questions and the Anime/Manga Convention Guide. In 1992, Pearl co-founded the Atlantic Anime Alliance, a social group of anime fans in the New York City area. He attended various Northeast anime conventions, including every Otakon from 1994 to 2000, as a fan guest of honor, and for a time, worked as a consultant for NuTech Digital. In 1995, former Gainax president Toshio Okada, who is known in Japan as the Otaking, met Pearl at the Anime East convention. Okada then bestowed on him the title of the "American Otaking." Pearl had been suffering from diabetes for a number of years, and recently underwent a leg amputation."
This is a convention bio that Steve wrote about himself from his website from February of this year:
"Steve Pearl has been fascinated by Japanese Animation since the days of Speed Racer but it wasn't until he saw Robotech and then the Macross movie that he discovered "true" anime and anime fandom. Since then, Steve has been doing all he can to learn about this facinating medium and to help other fans any way he can. His many projects include founding & coordinating two NJ anime clubs, "Rutgers Anime" and "Megazone NJ", as well as coordinating the "Anime Alliance", (an international network of Anime Clubs) and founding "International Friends of Shizuka Kudo". In addition to editing his fanzines "The Atlantia", "SDF", "Spiral Arms", "The Rutgers Anime Song Book", and "Shizuka's Journal"(most of which are migrating to the web!), Steve has contributed to a wide variety of anime magazines, fanzines & APAs including AM Plus, Anime Access, Animeco, Animerica, EX, Get Stuf'd, Mangazine, Protoculture Addicts, DuoWorld, Nexus Six, The Rose, Anime Zasshi, Anime Inc, Ranma APA, and Endless Road. He is also working closely with Jack Kim of Anime Canada on a variety of projects.
But it's the Internet, that mythical Information SuperHighway, where Steve truly seems to live as he spends what's left of his free time moderating the rec.arts.anime.info newsgroup (and helping out on rec.arts.anime.creative), writing the FAQ (Frequently Asked Questions) articles for most of the other anime/manga related Internet newsgroups, reading just about every anime & manga related newsgroup & mailing list there is (including running several of his own anime related mailing lists), maintaining several anime related ftp & web sites, surfing the Web, and answering the dozens of email anime questions he receives every time he logs in.
Steve is a frequent guest at Anime & SF conventions and has won the coveted Tezuka award both years they were awarded for "Most Dedicated Fan". His proudest moment came when Toshio Okada, the Japanese Otaking, declared him to be the American Otaking.
In the Real World, Steve works for Siemens Business Services as a Macintosh Technical Specialist. He also consults for Nutech Digital Inc as well as running Anime Guild, a small anime & comic mail order business, on the side."
Steve also included a mini-FAQ on himself:
About me
Hair: Brown | Eyes: Brown | Gender: Male | Race: Human
Birthday: November 28
Primary Computer: Power Macintosh G3/450 w/ 7256MB RAM; 8GB SCSI Hard Drive (internal); Maxtor 80GB Hard Drive (External)
Hometown: Aberdeen, NJ
Hobbies: Anime, Computers, Internet, Reading, TV
Projects: Too many!
Domains Owned: Aberdeen-NJ.com, AnimeAlliance.org, animecd.info, AnimeCDDB.com, animedog.com, AnimeGuild.com, AnimeLists.com, animemusic.info, AnimeVoices.com, AnimeWeek.com, AnimeZine.com, anicd.info, animusic.info, exit117a.com, macsupport.biz, MaximumBrad.com, NYCAT.com, Otaking.com, rujca.com, rujca.org, shizuka.net, shizukafanclub.com, shizukafanclub.org, ShizukaPress.com, shizukapress.com, StevePearl.com
Last movie seen: A Beautiful Mind
These Are a Few of My Favorite Things
Current TV shows: 24, Andromeda, Angel, Buffy the Vampire Slayer, Dawson's Creek, Law & Order, The Practice, Seventh Heaven, Smallville, Stargate SG-1, Star Trek, X Files
Past TV shows: Babylon 5, Battlestar Galactica, Brisco County Jr., Columbo, Dempsy & Makepeace, Doctor Who, Hercules, Highlander, Homicide, Hunter, Jack of All Trades, Legend, Lois & Clark, MacGyver, Picket Fences, Quantum Leap, Quincy, Seinfeld, Tales of the Gold Monkey
Singers/Musical Artists: Kudo Shizuka, Iijima Mari, Nena, Mio, Chage & Asuka, Steeleye Span, Phil Collins, Bangles, Belinda Carlisle, Miyasato Kumi, Yuming, Nanno, Wink
Actors: Richard Dean Anderson, Scott Bakula, Dirk Benedict, Bruce Campbell, Jackie Chan, Stephen Collins, Yuji Oda, Jinnai Takanori
Actresses: Kudo Shizuka, Heidi Hudon Leick, Yancy Butler,
People I admire:Toshio Okada, Isaac Asimov, Carl Sagan, Guy Kawasaki, Steve Jobs, Steve Wozniak
Anime: Galaxy Express, Gunbuster, Laputa, Macross, Maison Ikkoku, Nadia, Sailor Moon, Yamato
Manga: Galaxy Express, Mai, Ranma 1/2, Sailor Moon, Sazan Eyes,
Anime Songs: Himitsu Kudasai (Megazone 23 II), Information High (Macross Plus), Oboeteimasuka (Macross movie), Say Yes (BGC 7), Cinema (Maison Ikkoku), Forever Love (X Movie)
Authors: Isaac Asimov, Robin Cook, Peter David, Dean Koontz, Timothy Zahn.
Soft drinks: Diet Pepsi, Diet 7-Up
Food: Japanese, Chinese, Italian,
Ice Cream: Mint Chocolate Chip
…And here is a great photo of Steve Pearl and Silent Bob from his website: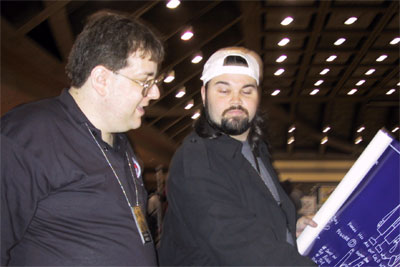 Top photo via fansview.com.