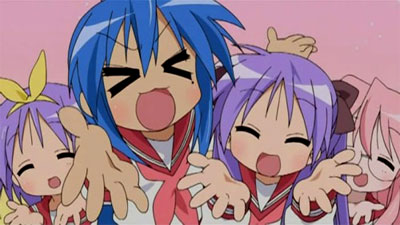 I've watched just about every episode on YouTube but being able to see it on a real TV screen will be fun! I hope hey include some good extras:
Bandai Entertainment Inc. to Release Kadokawa's Anime Series, Lucky Star!
"Kadokawa Pictures USA, Inc. and Bandai Entertainment Inc., announced today that it will be releasing the anime series Lucky Star in North America in 2008. The announcement was made in a unique way – a surprise trailer at the beginning of Vol. 4 of The Melancholy of Haruhi Suzumiya, which was just released.
Lucky Star is a 24 episode television series from Kyoto Animation, the same anime production company that created the anime series for Haruhi. Lucky Star's main character is Konata Izumi, a lazy high school girl who isn't interested in anything besides anime and video games. The series is described as the ultimate "otaku anime," — it pays tribute to anime culture and other series with in-jokes and hilarious references.

"We are pleased to continue our relationship with Kadokawa Pictures USA and release Lucky Star. It is a very funny series and fans are in for a treat," said Bandai Entertainment Inc. President Ken Iyadomi.
Like Haruhi, Lucky Star has a fantastic soundtrack and the songs and music have been very popular in Japan. "There is a Lucky Star dance, like Haruhi, and at a recent con, we saw it being performed by U.S. fans, so here we go again," added Bandai Marketing Director Robert Napton.
Lucky Star will be released in 2008, with exact dates to be announced shortly."
For more information visit: