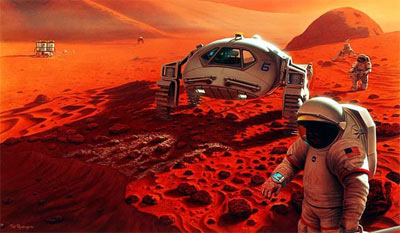 The good news is that this sounds like a serious proposal to go to Mars, the bad news is this is planned for the year 2031. You know I think the genius of JFK wasn't so much announcing a moon mission, but the idea of doing it within the same decade:
NASA manned Mars mission details emerge
"A 400,000kg (880,000lb) Marship would be assembled in orbit using the Ares V cargo launch vehicle for a 900-day mission to the red planet, according to details that have emerged about NASA's new Constellation programme's manned Mars mission. The spacecraft would take a "minimal crew" to Mars in six to seven months, with the crew spending up to 550 days on the surface, according to the programme's design reference architecture 5.0, currently in development.
Each of the three to four Ares V rockets used to launch the Marship elements into low Earth orbit would need a 125,000kg payload capacity and use a 10m (32.7ft) fairing. Crews would be sent every 26 months, will need up to 50,000kg of cargo, use an aerodynamic and powered descent method and the 40min communications delay between Earth and Mars would require autonomy or at least asynchronous operation with mission control."