Posted by Guest Author on Dec 14, 2007 in
Comic Books
|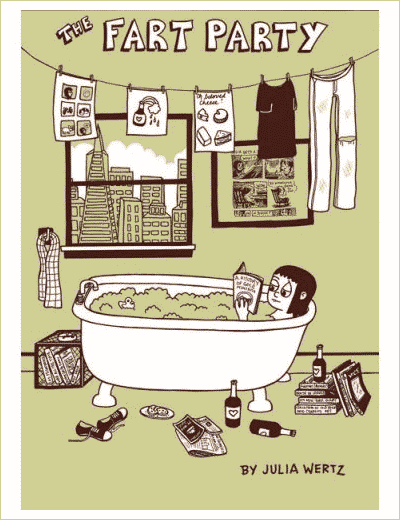 Our Top Indie Cartoonists to Watch For in 2008: Keeping true to our "Anti-Superheroes in Tights" mood at fanboy, we took a look back at the comic books and graphic novels that caught our eye:
The Fart Party, by Julia Wertz
If you're reading this theres a good chance youre an eight year old boy who googled fart for a laugh and are about to be sorely disappointed. Because Julia Wertz's Fart Party is actually pretty short on gross-out humor (OK, there are some instances of eye gouging with a pencil and defecating down some annoying hipsters decapitated neck). Still, it manages to deliver lots of humorous autobio vignettes about life in San Francisco with a bicycle, a boyfriend, and eventually a breakup, all the while with plenty of beer. The four Bs, right? Julias comics are seen online at fartparty.org and in her minicomics, but the collected book put out by Atomic Books this year has made her one of the breakout indie cartoonists of 2007.
Not one to lose momentum, Julia is in the process of assembling an anthology based on the Missed Connections section of Craigslist. Aptly titled I Saw You: Missed Connections Comics, the book boasts an impressive list of contributors including such luminaries as Peter Bagge (he wrote the intro for the Fart Party Book too, BTW) , Keight Knight, and Sam Henderson, and is due out from Three Rivers/Random House in 2008.
Jenny Gonzalez is a New York City cartoonist and punk rock singer. You can see her stuff at jennydevildoll.com.