Posted by Guest Author on Dec 27, 2007 in
Comic Books
|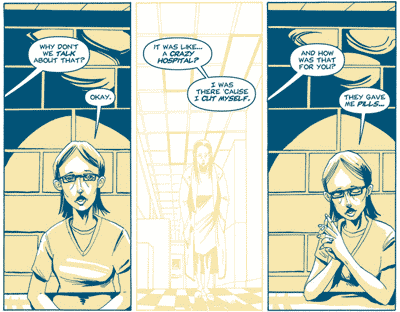 Our Top Indie Cartoonists to Watch For in 2008: Keeping true to our "Anti-Superheroes in Tights" mood at fanboy, we took a look back at the comic books and graphic novels that caught our eye:
"Fishtown" has an interesting story behind it, and not just because it's a heavily fictionalized account of an actual incident. Creator Kevin Colden may be the first person to win a Xeric grant—and turn it down, in favor of distributing Fishtown for free on the internet, specifically the LiveJournal comics community Act I Vate. This doesn't rule out the chances of Fishtown ever seeing print, but for the impatient of us there's always the internet.
The story centers around teen brothers Keith and Adrian, whose main interests are both doing and dealing drugs. Keith's other interest ishooking up with their clique's token girl member, Angelica, a smack addicted, self-mutilating trainwreck who's affections swerve between Keith, his friend Justin, and murder-victim-to-be Jesse. The story jumps back and forth in time between the aftermath of the murder and the events leading up to it, and shows how each of the teen killers has been affected.
Kevin renders his pages in a two-tone palette of muted yellow and blue, sickly hues which simultaneously evoke the dim lighting of an interrogation room or mental hospital and the haze of a drug trip, both of which are fitting for this story. The characters are often very distant looking, illustrating the facades they put up for each other and the authorities, with occasional flashes of expressiveness revealing their inner turmoil. Now, Act I Vate can be a little tricky to read through for a newcomer, what with over 20 different graphic stories being serialized on it at the same time, but fortunately there's an archive of Fishtown.
Jenny Gonzalez is a New York City cartoonist and punk rock singer. You can see her stuff at jennydevildoll.com.