Posted by Michael Pinto on Dec 15, 2007 in
Videogames
|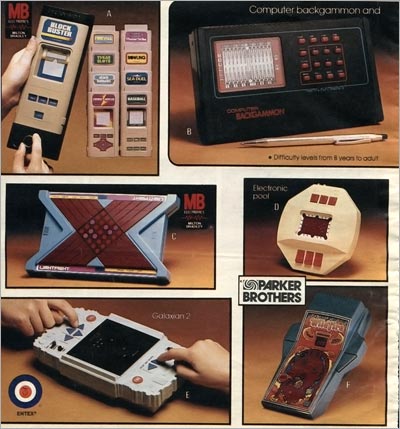 Shown above is page 482 from a Montgomery Wards Christmas catalog from the early 80s (click on the image to see it at full size). This catalog page features the following retro-gamer goodies:
A. MB Electronics/Milton Bradley Microvision
B. Mattel Electronics Computer Backgammon
C. MB Electronics/Milton Bradley Light Fight
D. Parker Brothers Bank Shot Electronic Pool
F. Parker Brothers Wildfire Pinball Arcade
What's interesting to me about these games is that they're all handheld devices in a pre-Game Boy era. If you account for inflation at $40 to $80 the toys are on the higher end of the scale of what tween or teen might expect to get for Christmas in 1981 (which is my guess when the page was published). One thing that caught my eye is that the backgammon game seems to be more aimed at young professional adults (known as yuppies in that era) rather than kids. From a fanboy point of view it's interesting to note that for $17.77 you could get a Star Trek cartridge for the Microvision! Although looking at the crude game play of the device (there's no video) I'm somewhat pleased that was never under my Christmas tree. Ah the good olde days, I'm so happy they're gone…
Found via myconfinedspace.com.