Posted by Guest Author on Dec 20, 2007 in
Comic Books
|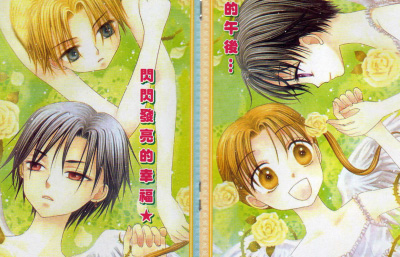 Our Top Ten Anime and Manga Series to Watch For in 2008: It's easy to find out about a Bleach or a Naruto once it's being aired on Cartoon Network, but it can take years for an anime to be licensed, dubbed, and put on TV. So here's our sneak peek at one of the ten manga or anime series that we feel are likely to hit it big in America in 2008:
Gakuen Alice (manga)
Status: Still running in Japan; Licensed by TOKYOPOP
Okay, technically TOKYOPOP is releasing the first volume of Gakuen Alice on December 26th, 2007, but that should be close enough, right? Since their hit shoujo (girls') series Fruits Basket– which peaked at #15 on USA Today's booklist, an amazing feat for a manga -has now ended, the company has been seeking a replacement. Given that they're advertising it as the hottest shoujo "Since Fruits Basket," it seems like they've nominated the super-cute Gakuen Alice to take that top spot.

When 10-year-old Mikan's best friend Hotaru transfers to a special school for geniuses in Tokyo, Mikan runs away from home to find her friend. She quickly learns that Hotaru's wacky school isn't really for "geniuses" so much as it's for "Alices," girls with a special power, hence the name "Gakuen Alice" (or "Alice Academy").
Over time, Mikan learns that the Academy isn't as grand as it seems: first, the Alices must do battle with the AAO, or the Anti-Alice Organization. On top of that, it turns out that the school itself is a web of lies and deception. Mikan, of course, takes it upon herself to change the school for the better in this hilarious, hyper comedy.
Like the chapters of the novels it's based on, the first season's episodes were broadcast entirely out of order. It seems likely that the second season will follow suit. What really remains to be seen, however, is whether it will capture the imaginations of the Internet generation as keenly as the first. Either way, you're sure to hear about it.
Gia Manry is a Portland, OR-based professional writer specializing in pop culture/entertainment writing. Read up on more of her work at giapet.net or hire her at GiaManry.com.