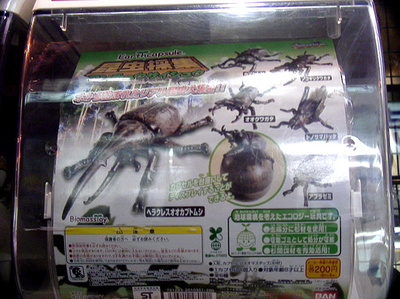 While gashapon (capsule toys) of beetles are far from uncommon, I noticed this series of dung rolling beetle miniatures utilizes the capsule as a replica of a dung ball (click on the image above to view the vending machine at full size).
There have been enough stories of actual live beetles sold from vending machines to maybe make some people believe that it's commonplace, ranking right up there with school girl underwear vending machines. While I'm sure someone must have tried the idea, it's a fallacy that either is commonplace. I'm sure someone must have tried it back in the 1990s sometime, but it's more legend than something one may likely run into.

Below: A close up of the beetle gashapon (click on the image to view to view at full size).
Nick Kent is a New York based artist who works with electronic media and is an occasional pop culture pundit.