Terror stalks the streets as a scientist's human-transplant experiment runs amok in this 1968 cult classic horror flick! Don't you just love that toy robot that appears in the title design? It's like they build you all up and then you get that letdown, however vicious Satana (played by Tura Satana) more than makes up for it. In fact I love this fanboy quote from Quentin Tarantino quote I came across about Satana:

"I would give up five years of my life to work with Tura Satana. She's Japanese, Cheyenne, and something else-awesome!"
Of course Tura is much better known for her earlier role in Russ Meyer's 1965 film Faster, Pussycat! Kill! Kill!.
But getting back to Astro-Zombies (direced by Ted V. Mikels for a mere budget of $37,000) the "plot" features a Frankenstein theme of a disgruntled scientist (because he was fired from NASA) who then decides to create a creature from the spare body parts of innocent victims who have been murdered. And of course you can't keep a good creature from then escaping and going on a spring break rampage to find cute blonds as seen in this poster: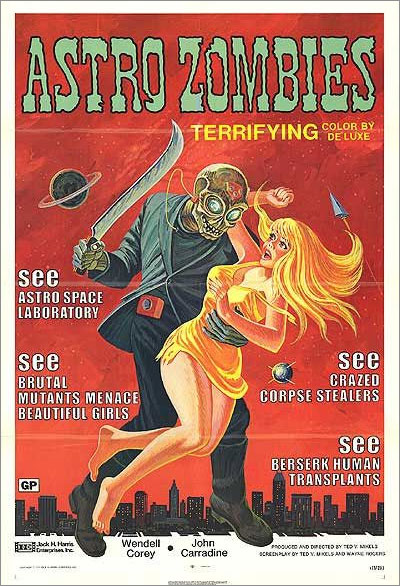 Poster found via the Internet Movie Poster Awards.