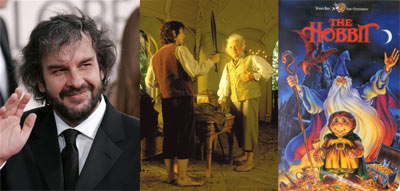 Because a good hobbit is always hard to break:
Hard 'Hobbit' to Break: Jackson's In
"After publicly feuding for more than a year, "Lord of the Rings" director Peter Jackson and New Line Cinema have reached agreement to make J.R.R. Tolkien's "The Hobbit," a planned two-film prequel to the blockbuster trilogy.
Jackson, who directed "Rings," will serve as executive producer for two "Hobbit" pictures. They will tell the story of how the young hobbit Bilbo Baggins originally came to possess the nefarious One Ring that Frodo, his adopted heir, needed three films to dispose of.

A director for the films has yet to be named. Production is tentatively set to begin in 2009 with a release planned for 2010, and the sequel following in 2011."
…and now we'll do our fanboy Hobbit dance to celebrate (and yes this is the full uncut version):