Posted by Michael Pinto on Jan 28, 2008 in
Comic Books
|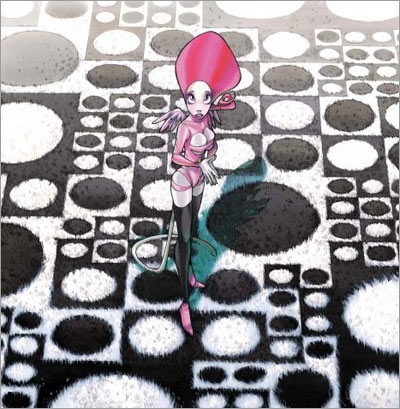 Above: A panel from the French comic book Sky Doll.
Over the last few months I've been enjoying watching the growth in popularity of manga with with the American market. However there are other places besides Japan that have a great tradition of producing amazing comic books — one of those places is France, yet very few French comics make their way over here. So I was very pleased to read that Marvel is doing a joint publishing venture with Soleil:
Marvel And Soleil Announce New Joint Publishing Venture!
"Some of Soleil's most popular releases, such as Sky Doll, Universal War One, Samurai and Le Fleau Des Dieux, make their English language debuts beginning this May. The first release will be Sky Doll #1 (of 3), a timely socio-political thriller in which a young android must decide her destiny by challenging the very government—and faith—that has controlled her life.
Soleil appeared on the comic scene in 1988 and quickly moved into publishing both classic comics by hot, young talent and series targeted towards younger audiences before buying great classics (Mandrake, Tarzan). Publishing science fiction, heroic fantasy, westerns and action comics from superstars such as Arleston, Tarquin, Mourier, Crisse, Swolfs and Ange, in addition to promising young talent, Soleil quickly established itself with a catalogue of powerful graphic novels."