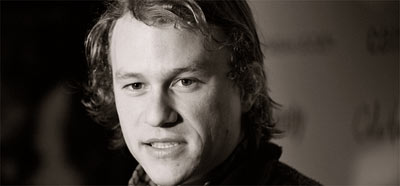 Hollywood is filled with tales of tragedy and excess and Heath Ledger is the newest in a long list of lives cut short in the world of entertainment. At only 28 years of age the young Aussie was just coming into his own as an actor. With his sudden explosion into the big time with Ten Things I Hate About You Heath managed to string together a series of successful roles including A Knight's Tale, The Brothers Grimm and The Order .

However it was the controversial and critically acclaimed Brokeback Mountain that showcased his acting ability and brought him to the attention of Christopher Nolan. Cast as the Joker in the upcoming Batman: The Dark Knight, Heath Ledger was on the verge of superstardom. Even during the filming of the Batman Begins sequel Heath's own personal demons reared their ugly head. Heath and his fiancee Michelle Willams separated last year sharing custody of their two year old Matilda Rose.
The work on the Dark Knight was hard on the actor. He was quoted as stating the part drove him to drink and pills because of the stress of performing the part and the sleepless nights that accompanied the shoot. What was expected to be the runaway smash hit of the summer now carries the bittersweet tag of a young actor's last role and one that would have propeled him to superstardom. The tragedy will still be fresh in the minds of the public as they pay their money to see Heath's portrayal of the iconic Joker, sadly it's a portrayal we won't see again.
Just from looking at the promotional posters and hearing the voice of the Joker on the teaser trailer there is no doubt that Heath put all that he had into the role and for that Batman fans everywhere should be pleased. At the time of his death Heath had been working with Terry Gilliam (Monty Python) on his new film The Imaginarium of Doctor Parnassus, what will happen with that film is now up in the air.
My condolences to Heath Ledger's family and friends. His light was extinguished way to soon and he will be missed.
Richard Carroll is an avid movie viewer and all around fanboy. You can probably find him at his computer playing Guild Wars when not watching,writing, reading or roleplaying something (Oh and then there's the real world and work). Check out some of his written works at www.ficofthedead.com. A website in need of a webmaster to ensure it gets updated. (Any takers? Anyone? *grins*)