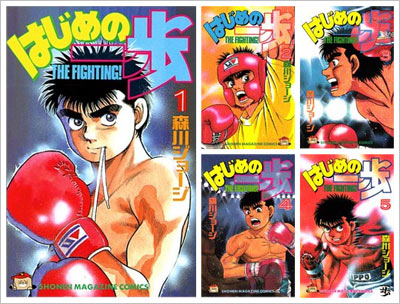 With American anime sales on a downward trend, a lot of attention is being paid to its partner in crime manga, the Japanese comics that are often adapted into anime (if they're not already adaptations themselves). In North America and Europe manga has exploded, but the sheer volume of manga published in Japan means that not every series makes it over here— and even the ones that do don't always get the attention that they deserve! So here's one of our Top Ten Underrated Manga that we recommend that you should get your hands on:
Hajime no Ippo ("The First Step")
George Morikawa's boxing manga Hajime no Ippo is probably the longest-running underrated manga out there. A full 81 volumes have been produced since its inception in 1990, all of which remain bereft and unlicensed. Oh, and it's still running, too.

The story follows a high schooler named Ippo who never has time for friends and fun because he's too busy helping with the family business, running a charter boat for fishing expeditions. One day Ippo is about to get beaten up by a bully for his reclusive ways, and a boxer who happens to be passing by saves him. He takes Ippo to a gym to recover from his injuries and Ippo vents his frustrations against a sandbag— and presents a remarkable talent for boxing.
What follows, of course, is Ippo's training as he tries to reach the top prizes of Japan's boxing world. Throughout the matches he and the other fighters learn about life, love, and themselves. A 76-episode anime adaptation was produced by studio Madhouse and released in the U.S. by Geneon Entertainment, but still no luck on getting the manga stateside. Alas!
Gia Manry is a Portland, OR-based professional writer specializing in pop culture/entertainment writing. Read up on more of her work at giapet.net or hire her at GiaManry.com.