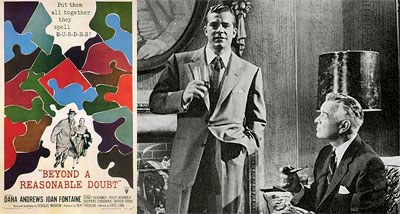 When ever I think of Fritz Lang the film Metropolis comes to mind, but often folks forget that he did a nice body of film noir projects in the 40s and 50s. It seems that RKO hasn't forgotten this and is now in the process of putting together a remake of the 1956 Lang film Beyond a Reasonable Doubt with Michael Douglas:
Michael Douglas to Remake '50s Legal Drama Beyond a Reasonable Doubt
"The movie in question is a film noir by Fritz Lang, who made such unquestionable classics as M and Metropolis. Beyond a Reasonable Doubt was a sturdy flick starring the underrated Dana Andrews (Laura, The Best Years of Our Lives) as a writer who pins a murder on himself to prove the folly of circumstantial evidence. Heady stuff.
Variety tells us that this time around, Michael Douglas, Amber Tamblyn and Jesse Metcalfe will star in a contemporary remake of the film to be written and directed by Peter Hyams (who's a far cry from Timecop here), and production is expected to begin next month. Having adored the noir touches of Hollywoodland a couple years ago, I wish they'd kept it in the period. I guess with the litigous nature of modern America, it makes sense to skewer the judicial system in the here and now, but I can't help thinking it would be more special as a traditional film noir."
Here's a clip from the film: