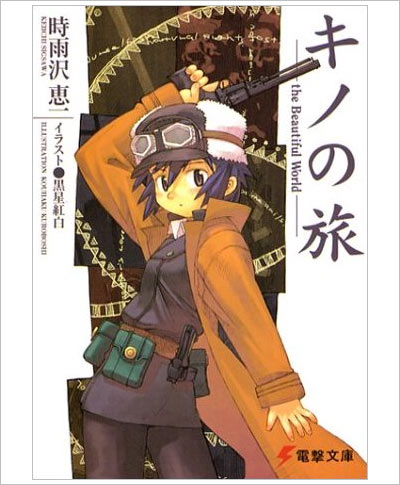 Most people know about anime and manga, but a new wave of Japanese popular culture is just starting to hit the United States: the light novel. The light novel (literally "raito noberu" or "ranobe" for short) is similar to a young adult novel in the United States, but it also has a little twist: manga-style illustrations are littered throughout the books. So now that you know what light novels are, here's one of our Ten Light Novels That You Need To Know:
Kino is a young, ambiguously female traveler accompanied by a talking motorcycle named Hermes. They travel to different countries and learn about the cultures, never staying in any location for more than 2 nights and 3 days before moving on somewhere else.
This is a tradition that the protagonist has stolen from another person named Kino: a man who sacrificed his life to save her. Kino continues the man's tradition, then, and wanders. The series is a slice-of-life, lacking an overarching plot in favor of vignettes that express the commonly repeated phrase that "the world is not beautiful, therefore it is."

The world of Kino no Tabi often features the dark— brutality, loneliness, and oppression —juxtaposed against the light —the compassion of the characters and the slightly fantasy-ish worldsetting. The world features such whimsical items as a talking motorcycle, but with technology that includes both talking robots, phonograms, and no airplanes.
The novels are written by Keiichi Sigsawa and illustrated by Kohaku Kuroboshi, and TOKYOPOP has licensed them for release in English. It was also developed into an anime series in April 2003, and a movie is in the works, but neither of these has been licensed for English release.
Gia Manry is a Portland, OR-based professional writer specializing in pop culture/entertainment writing. Read up on more of her work at giapet.net or hire her at GiaManry.com.