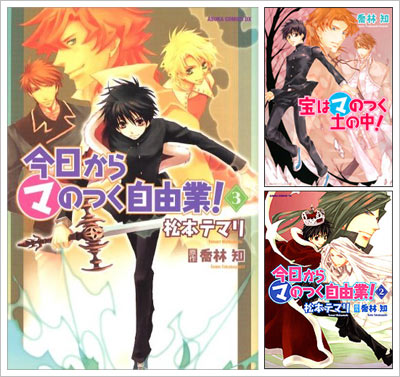 Most people know about anime and manga, but a new wave of Japanese popular culture is just starting to hit the United States: the light novel. The light novel (literally "raito noberu" or "ranobe" for short) is similar to a young adult novel in the United States, but it also has a little twist: manga-style illustrations are littered throughout the books. So now that you know what light novels are, here's one of our Ten Light Novels That You Need To Know:
Kyou Kara Maou! (Demon King From Now On!)
Many light novels are geared towards guys, featuring an average guy surrounded by cute, fun girls. But Kyou Kara Maou! is a title for the ladies, with a host of attractive men in a fantasy setting. On top of that, the series is largely a comedy and pokes fun at any number of boys love clichés, leading the series to widespread popularity.
Yuuri Shibuya is an average high school guy who, when trying to help an old friend deal with some bullies, gets flushed down a toilet. The weird thing here, though, is that he actually DOES get flushed down the toilet— and into another world. In this new world he is declared king, to his surprise, and is immediately taken to a castle.
It turns out that the world he's appeared in is called Shin Makoku, and its residents are beings called Mazoku— demons, but humanoid ones, and they have some PR problems with the humans that reside outside of the kingdom. Yuuri himself is half-human, half-mazoku, so as king he has to figure out how to get everyone to get along.

But enough about politics: Kyou Kara Maou! favors bringing on the funny. The Mazoku have some funny traditions. For example, during his pre-coronation dinner, a young lord named Wolfram von Bielefelt expresses his disdain for his new king and insults Yuuri's human mother. Yuuri responds by slapping Wolfram across the face…except it turns out that for Mazoku, that slap is actually a marriage proposal. (Yuuri spends the rest of the series dealing with Wolfram's jealousies— and Wolfram's pink, frilly nightgown.)
The zany cast star in 13 volumes of prose, written by Tomo Takabayashi and illustrated by the popular BL mangaka Temari Matsumoto, who also does the manga version of the series (licensed by TOKYOPOP). Two seasons of anime have aired, with an OVA currently being released in Japan and a third season set to air in April of 2008. The anime has been licensed and released in English by Geneon, so it's unclear what will happen in terms of season 3. The novels remain unlicensed.
Gia Manry is a Portland, OR-based professional writer specializing in pop culture/entertainment writing. Read up on more of her work at giapet.net or hire her at GiaManry.com.