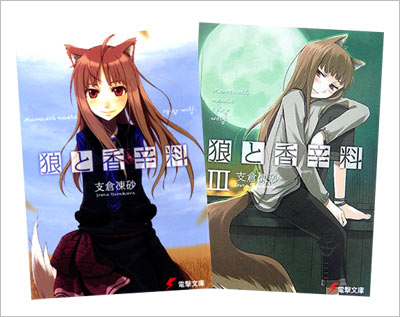 Most people know about anime and manga, but a new wave of Japanese popular culture is just starting to hit the United States: the light novel. The light novel (literally "raito noberu" or "ranobe" for short) is similar to a young adult novel in the United States, but it also has a little twist: manga-style illustrations are littered throughout the books. So now that you know what light novels are, here's one of our Ten Light Novels That You Need To Know:
Ookami to Koushinryou (Spice and Wolf)
Craft Lawrence is a traveling merchant in a world that vaguely resembles a pre-Renaissance-era Europe. He hopes one day to earn enough money to create his own shop and settle down somewhere, but hits a snag in a town called Pasroe. On his way out of the town he finds a young girl sleeping in his cart— odd enough in and of itself, but then he notices that she has wolf-like ears and a tail.
She introduces herself as a wolf god, Horo the Wise. She has been acting as a local deity for the town, blessing it with good harvests as often as the land will allow. Unfortunately the townspeople have ceased to show much respect to her, and are increasingly under pressure to join the church (an unspecified but overpowering organization).

She tells Lawrence that she wants to travel to her hometown in the North and, in the meantime, see how the world has changed during her time in Pasroe. He agrees and the two set off. Horo's intelligence and abilities help Lawrence get out of many scrapes— but her wolf-like nature gets him into just as many, particularly with the church.
Isuna Hasekura writes this novel series, which is seven volumes long to date, while Juu Ayakura illustrates. A manga adaptation began in September of 2007, while an anime version is shaping up to be one of the best of the winter 2008 crop. A Nintendo DS game that combines the "renai" (dating simulation) genre with a peddling sim game is due out in May, along with an OVA. None of it has been licensed for release in English— yet.
Gia Manry is a Portland, OR-based professional writer specializing in pop culture/entertainment writing. Read up on more of her work at giapet.net or hire her at GiaManry.com.